"I want to read more books this year!"
We always hear this line from book lovers from all around the world.
ALLEF VIA STOCKSNAP
Most, if not all, even set goals for themselves and use apps - like Goodreads and LibraryThing - to track their progress. Some may succeed, but others just end up frustrated.
Of course, we all know that one of the things that prevent us from reading more books is the insufferable reading slump.
If you do find yourself in a reading slump and feel that you've left your concentration in some backwater part of your mind, then someone needs to remind you that there are things you can do to bring your reading game back up. That someone is going to be me.
Here are some tips you can use to read faster and, ultimately, read more books at the end of the year.
If you have friends who love recommending books to read, know that you don't always have to follow their advice. Before investing time in a certain book, you need to be sure that you really want to read that title.
Don't read a book for the sake of reading, rather, read because you are - in all honesty - curious and interested in a specific book. If you read a book based on the number of positive reviews it got, you may end up wasting money and time on a book about vampires, werewolves, and a teenage girl that is filled with some cringe-worthy triple-cheesy moments.
Identify your favorite genre and pick up two to three books that you can take shifts in reading. Doing so will improve your concentration because jumping from one story to another would won't get you bored easily. It's like watching several different TV shows at a time.


3. Establish a reading routine.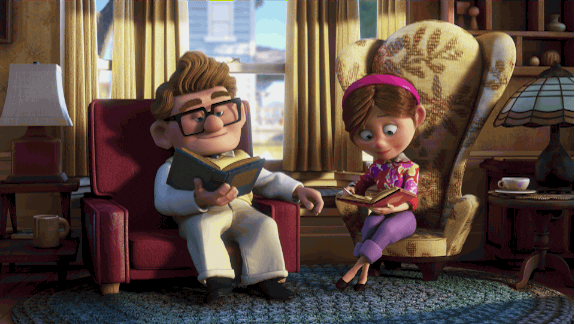 VIA GIPHY
If you have a busy schedule and you're worried that you haven't been reading that many books lately, you can set aside a certain time of the day and dedicate it solely to reading. It can be any time of your choosing, just make sure that it is a time when you can get away from distractions.
The best time is during the night, right before you go to bed. You will not only be free from work responsibilities, you will also help yourself transition into a peaceful slumber.
No matter where you go or what you do, it's always a good idea to stuff your knapsack with books. Whenever you are commuting, waiting for someone, or are simply not doing something important, you can always pull out your book and go through a few pages. Idle moments need not be wasted and reading is a great way to spend precious time.
A lot of book lovers have the tendency to go overboard when buying books, especially when they find it in a thrift store or a book sale. Before you pay for it, ask yourself the reason why you would buy such books. Are you interested in the story? Are you a fan of the genre? Does it have information that is relevant to your career?
If you don't have a good reason, don't buy it. You will just end up reading the first few pages and leaving it at the back of your closet. Also, the time you spent reading those first few pages could have been spent reading something you actually liked and would finish.
Don't allow your excuses to get in the way of reading more books. If you follow these tips, I guarantee that you'll always be motivated and develop reading like a natural reflex. You'll stay ahead of your Goodreads reading challenge for sure.
Do you have any more tips that could help our fellow #awesomenerds read more? Share them in the comments!